If you don't want to read something depressing please skip to the last paragraph and read about what you can do to ensure that you don't support pet mills.
Puppy/Kitten Mills are places where dogs and cats are mass produced to be sold.
These places do not care about their animals, allow them to live in squalor, tight cramped cages that are rarely cleaned.
Often times they are separated too soon from their parents, and develop behavioral problems.
Because of the way they are bred (or inbred) they have horrible genetic defects. If you do not have the proper testing done on the parents (which these places do not do) to make sure that they have no problems and are a good genetic match with each other their resulting litters will almost always have horrible problems that end up costing a lot in vet bills as well as the poor animals being in severe pain and having to be put down in some cases.
Many of these pets are malnourished, have open sores, deformations, diseases(cataracts, deafness, distemper(usually fatal), epilepsy, glaucoma, hip dysplasia, mammary tumors, parvovirus(usually fatal) etc)
These pets get minimal if any veterinary care.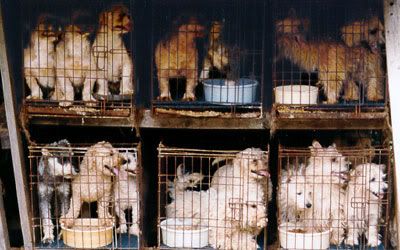 They are given very little substandard food, are housed usually outside with very little shelter from the elements. They are generally in chicken wire cages (sometimes rabbit hutches or rusty barrels) that hurt their paws and if their leg slips through the bottom it can be injured and is usually not taken care of. They are not provided fresh water or water on a consistent basis. They are often left in their own waste and as such do not learn to be tidy with their bathroom habits, which leads to difficulty in potty training which is one of leading reasons animals end up in shelters!
Only around half of the pets survive, and of the survivors most have shortened lives.
"Stephanie Shain, the outreach director of the Humane Society of the United States, says that of the 7 to 9 million dogs acquired in this country each year, between 2 and 4 million come from puppy mills."
So what can you do to help? First and foremost think about adopting! There are many puppies, kittens, cats and dogs in shelters that all need homes! Even if you are looking for a pure bred about 1/4 of the pets that come in are pure bred and the awesome thing about adopting is it is much much cheaper (usually 70-120 vs the 600 at pet stores) and you are supporting a good cause! If you absolutely must have a pure bred puppy or kitten (like in the case of needing to socialize a dog at a young age with cats) first check shelters, then check breed specific rescues, then find yourself a reputable local breeder. Ask to see where they where raised, examine the parents for health, ask how often they are bred (good breeders should skip a few heats) find out if they are well socialized, find out if they have any medical conditions, and ask to see papers. Finally a good breeder will always ask you questions to make sure your the right fit, they may even ask to have a home inspection so be prepared for that!